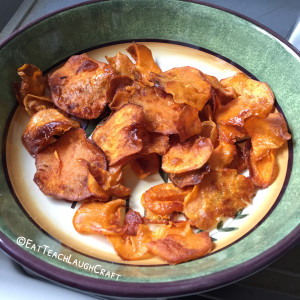 I love chips. I love the saltiness. I love the crunch. I love that they're the perfect side to a sandwich.
However, I try not to eat chips on a regular basis because, let's face it, store bought chips don't exactly help me stay in tune with my health and fitness goals.
Recently, I've been looking for a healthier chip alternative to rely on when my chip cravings creep up. There are lots of brands that have started marketing "healthier" chips. I've bought and enjoyed the Beanitos and Terra Chip brands before, among others. However, there are still a lot of ingredients that go into making store bought chips! In my opinion, the less ingredients, the better. More natural and higher quality!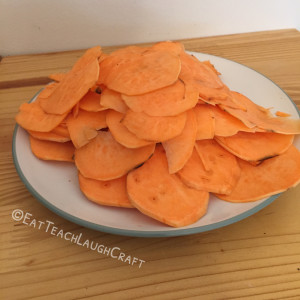 Sure, you can make Kale chips as an alternative… but really???? They're not fooling anyone into thinking they're an actual chip. I believe that the BEST chips are made with potatoes.
Sweet potatoes are much more nutritious than white potatoes, so when I make my chips, I tend to stick with the sweet potato variety. You can easily sub white potatoes in this recipe and still have a delicious result.
In order to make chips that actually taste like chips, you need to fry them. Yes, I know that when you fry things it adds calories and fat. However, sometimes that's not always a bad thing! It depends on which kind of oil you use. ***I'm not implying that every meal should be deep fried either. Moderation is key!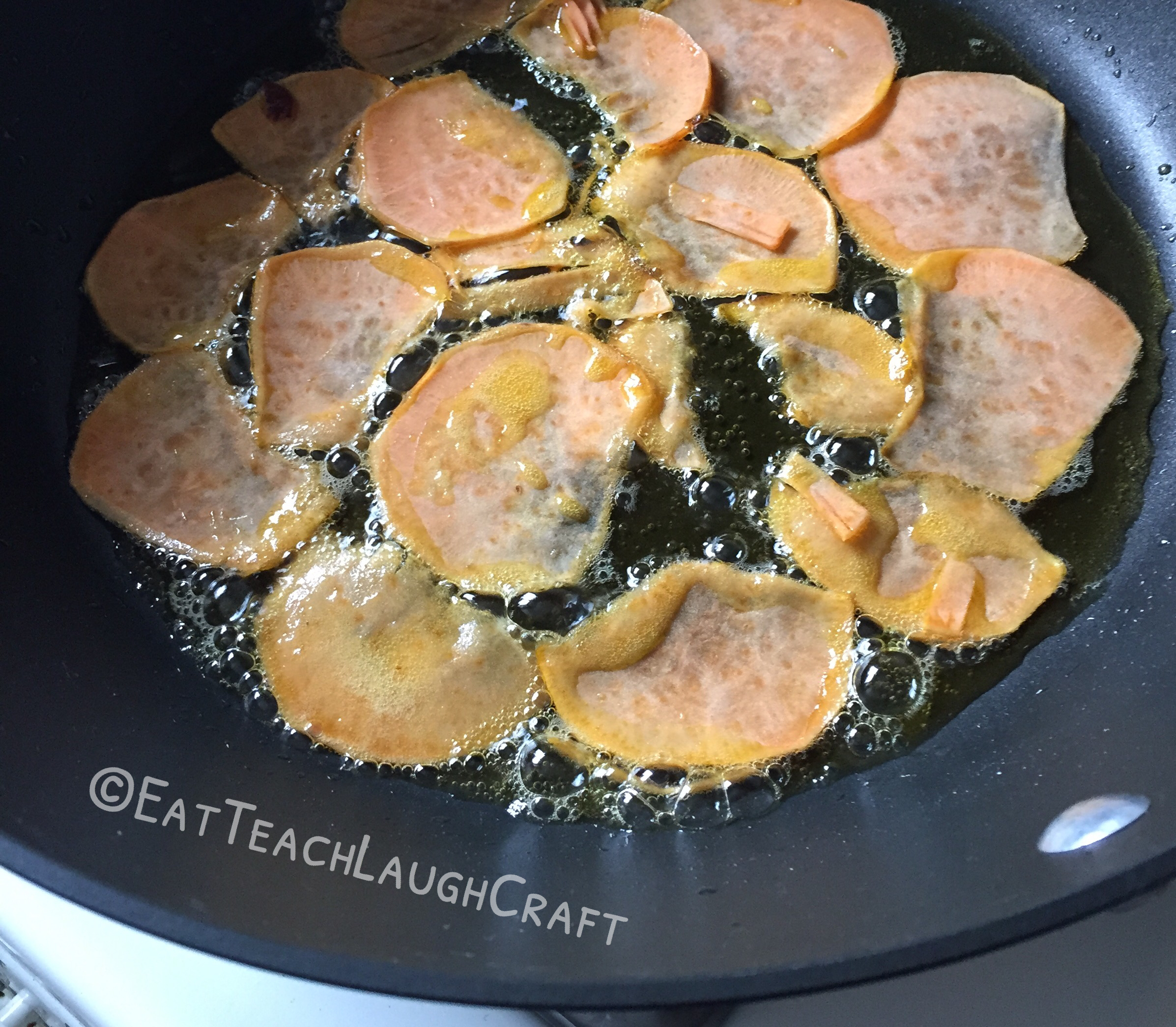 I personally use coconut oil when cooking my sweet potato chips. There are endless benefits to consuming coconut oil!
Many researchers have found that coconut oil can increase your energy expenditure which can actually help you burn more fat! A quick google search can also lead you to hundreds of reputable sources that claim that there are many amazing benefits to consuming or using coconut oil on a regular basis. Therefore, when I make these sweet potato chips every once in a while, I don't feel bad that I'm frying them in coconut oil :)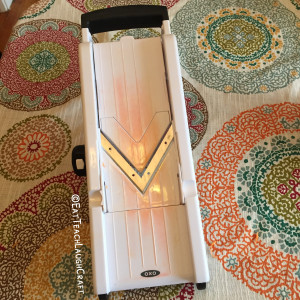 The next part that really helps make a homemade chip feel and taste like a store bought chip is the thickness. You can thinly slice your sweet potato by hand in hopes to achieve your desired width, but it may be frustrating and your results might not be the greatest. I'm not saying it's impossible, just that a tool might help you achieve better results! I know from experience :)
I received my mandoline slicer for my bridal shower last year and I'm obsessed! It makes it soooo easy to slice the potato super thin! The model I have also provides different blades for making crinkle cut slices or french fries! The best gift! Check it out HERE on amazon.
Once the chips are cooked, you can season them however you'd like. Most of the time, I just enjoy them with some sprinkled sea salt. (Salt is a must in my book!) However, I've also added different types of seasonings such as garlic powder, cayenne pepper for when I'm feeling something spicy, cinnamon, rosemary, etc. The possibilities are endless!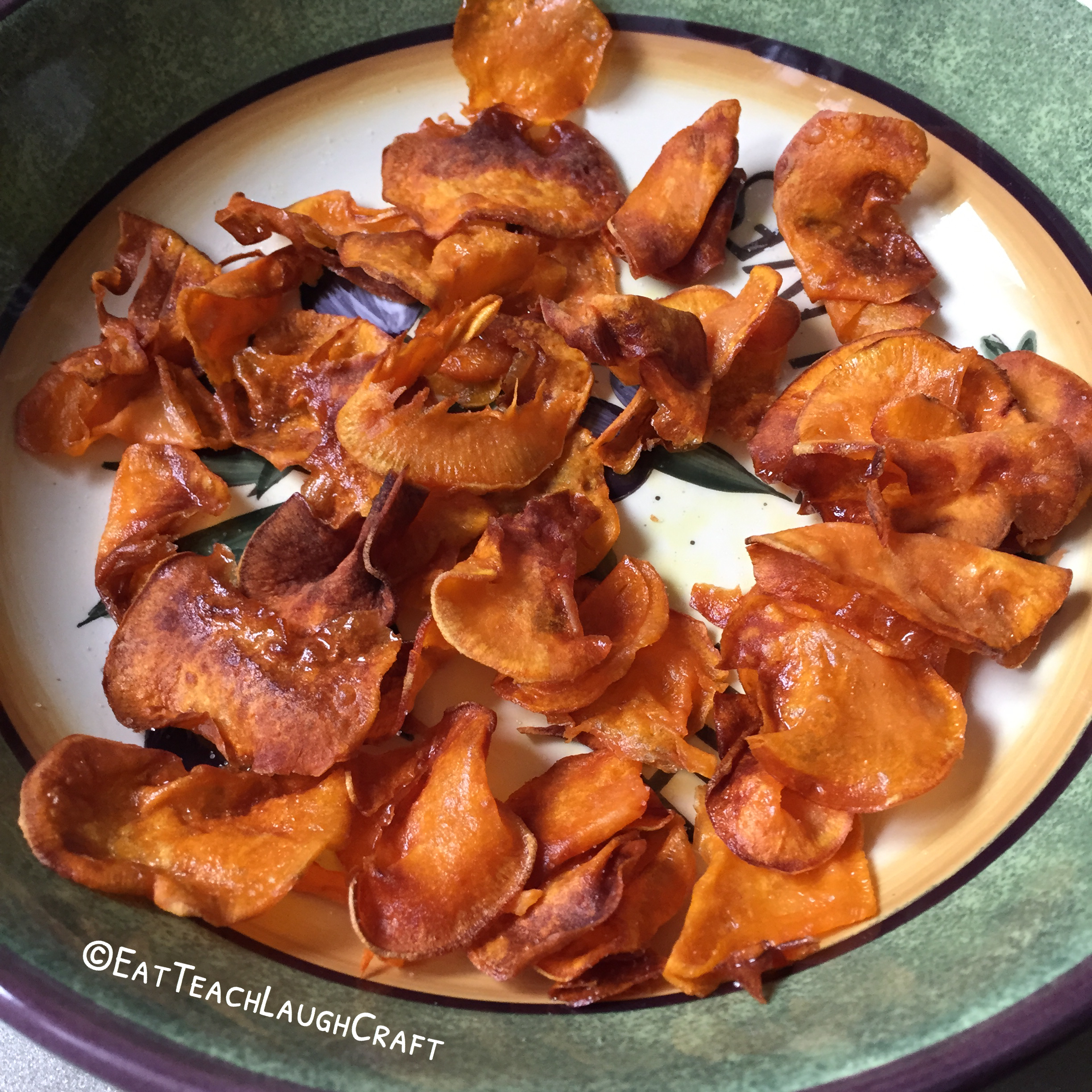 Let me know if you make your own sweet potato chips! I'd love to hear how it went and what seasonings you used :)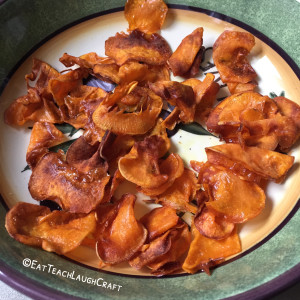 Homemade Sweet Potato Chips Recipe
2015-04-10 14:33:26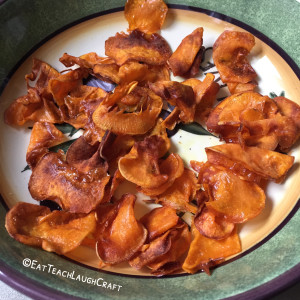 Serves 2
Ingredients
1 sweet potato
1/4 cup coconut oil
sea salt
Instructions
Peel sweet potato and slice very thinly using mandolin slicer or sharp knife. Put coconut oil in large skillet and heat on med-high heat. Wait about 3-5 minutes until oil is heated throughout.
Using tongs or a spatula, carefully place sweet potato slices in the oil. Try to lay the slices in a single layer to ensure they cook evenly. (Be careful, oil is extremely hot and will splash up a bit.) Cook for about 2-3 minutes on one side and then flip and repeat.
After about 5-6 minutes, or until the sweet potato chips start to brown, remove from heat and transfer to paper towels to absorb the excess oil. Once cooled, pat dry with paper towels and sprinkle with sea salt and other desired spices.
Serve and enjoy!
Eat Teach Laugh Craft https://eatteachlaughcraft.com/