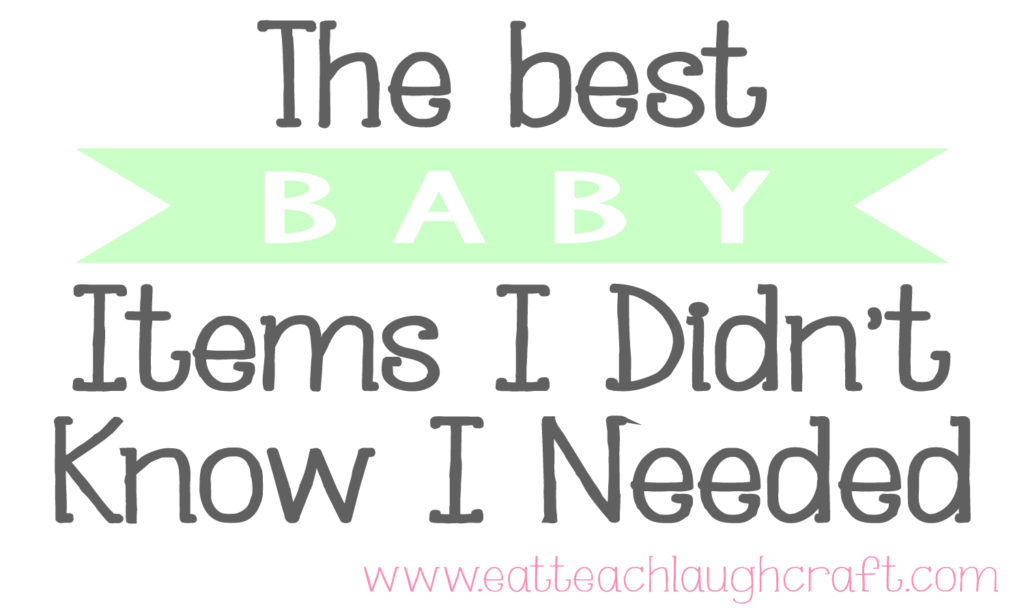 My husband and I have recently become new parents to a beautiful healthy baby girl. While she's only about 12 weeks right now, it's been quite an adventure so far! More amazing than I could have ever imagined. But we definitely would have struggled a lot more had we not had some of these amazing products I'm about to tell you about.
When we found out that we were pregnant, we knew we had to register for baby items. However, one thing I realized while registering for a baby was that it's a totally different experience than registering for a wedding. When we were selecting wedding registry items, we were essentially arbitrarily going around scanning gadgets that looked cool, some things we always wanted but didn't want to pay for ourselves, nicer kitchen items, etc. You know what you want and what you need when you create a wedding registry. However, a baby registry for first time parents is a different ballgame entirely!
When we started to create our baby registry, sure, we went around and scanned a few things that "looked cool" once again. However, we also knew there were certain items that were essential to have to welcome our new baby. What exactly were those items? We weren't too sure. After all, this was our first baby. How are we supposed to know?
In order to create our registry, we used google, Pinterest, the store lists, friends' recommendations, etc. and came up with an pretty good collection of baby items that we needed. We tried not to get TOO much though because we have yet to buy a house and live in an apartment with limited space. We only registered for what we thought were the necessities – A baby swing, crib & mattress, Pack 'N Play, etc.
The good thing for us as well was that my sister already has four children, two girls and two boys. That made our life a heck of a lot easier because hello hand-me-downs!
The downfall about having a sister with four kids and getting their hand-me-downs is that you don't really know what you're getting and if you'll actually use it. Sure, don't get me wrong, my sister took the time to label things, explain the functions, etc. This pack of buttons was the funniest thing I think she gave me.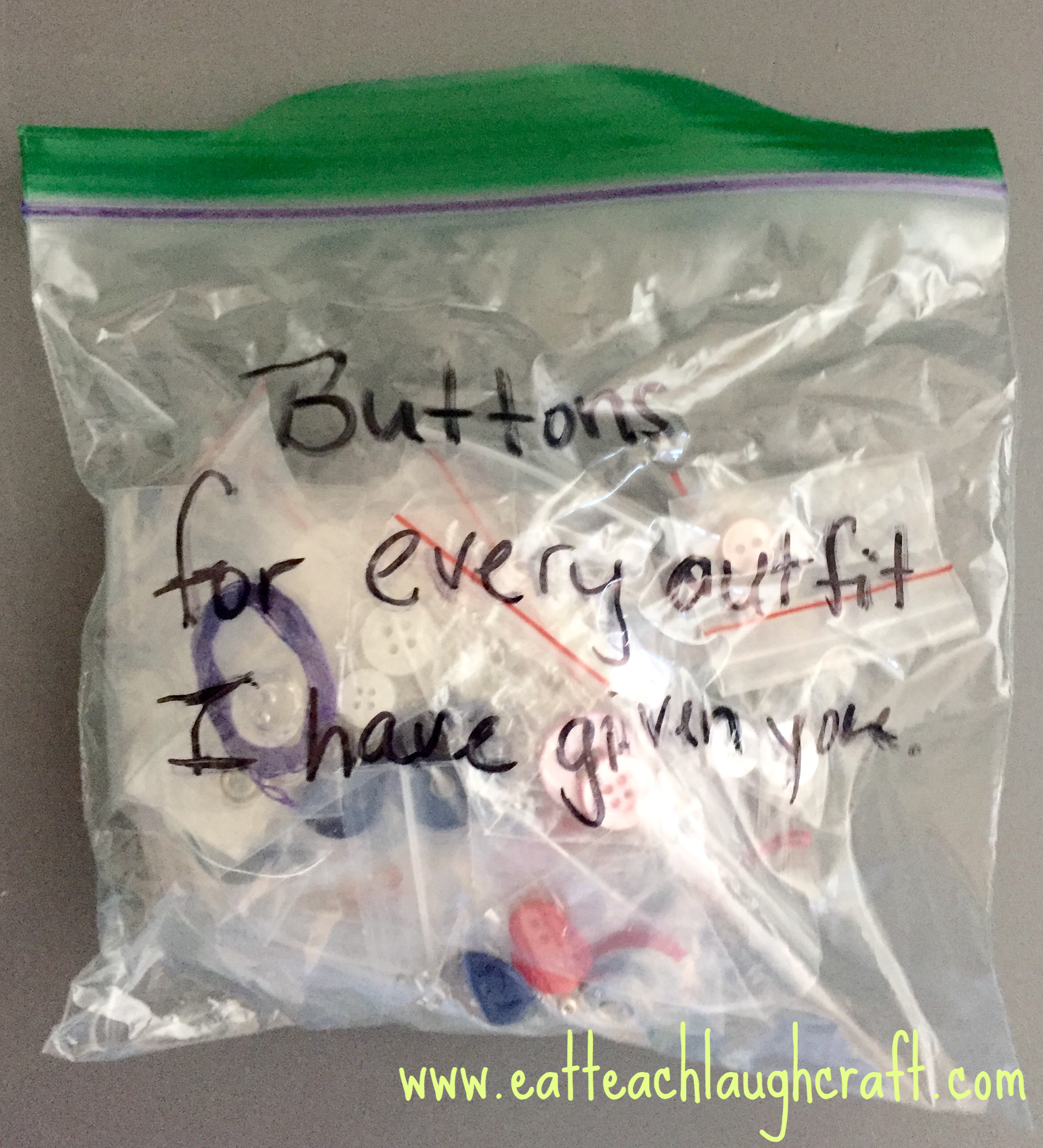 However, when your apartment is absolutely COVERED with baby stuff to the point where you can barely find a place to sit down, you get to the point where you almost want to throw away everything that's not new in a box and that you didn't specifically pick out yourself. That's pretty much what happened to me. Except, we didn't throw things away, but rather packed them up and stuffed them into our overflowing garage to eventually forget about them.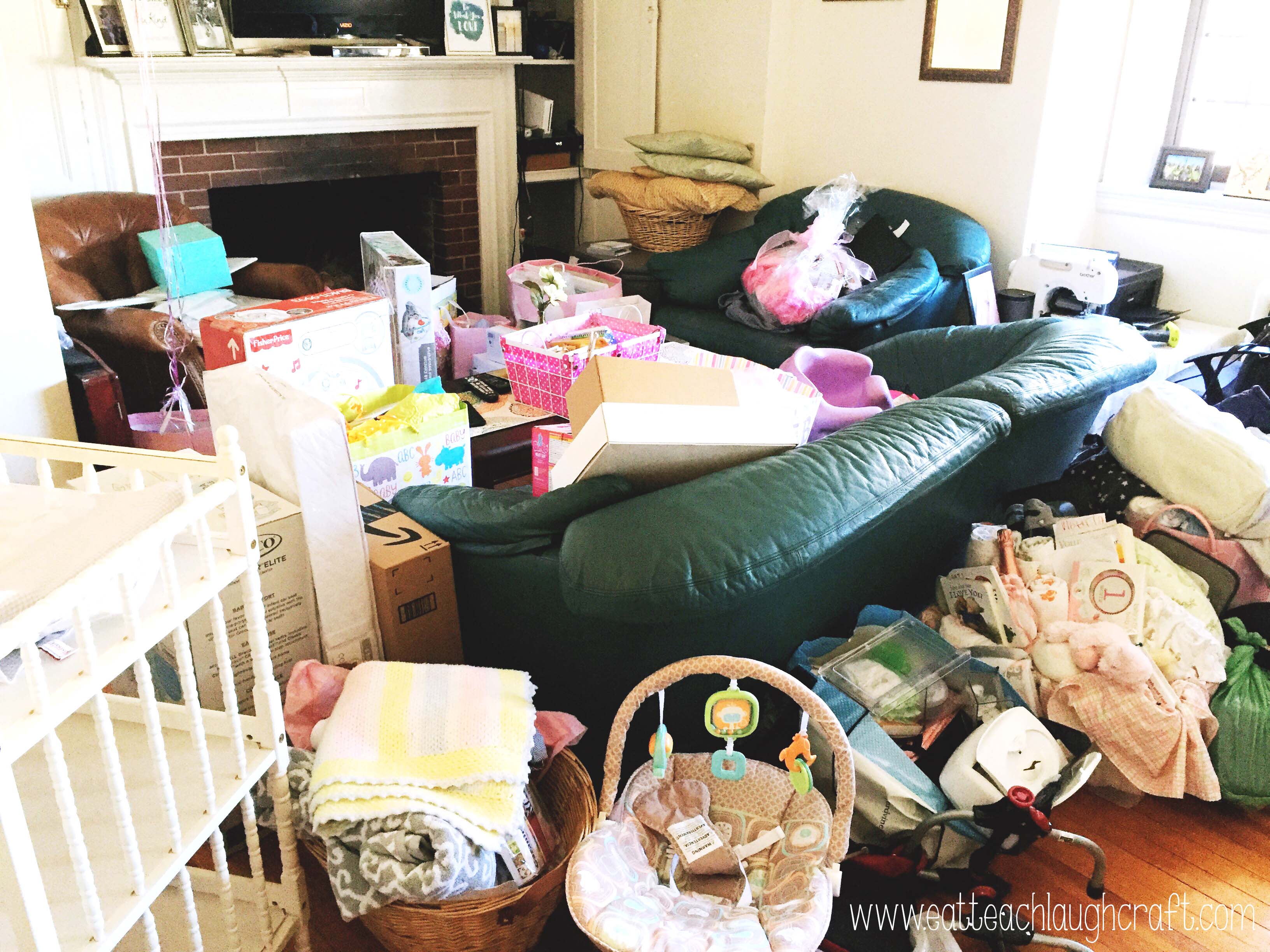 It wasn't until after our baby girl was born and my sister came over to visit that she and my husband ventured out into the overwhelming garage again to find the hidden gems she had passed down to us. Many of which have become my favorite baby items that I didn't know I needed until after the baby arrived. Here are some items that are helping to make these first few months with our daughter a lot easier!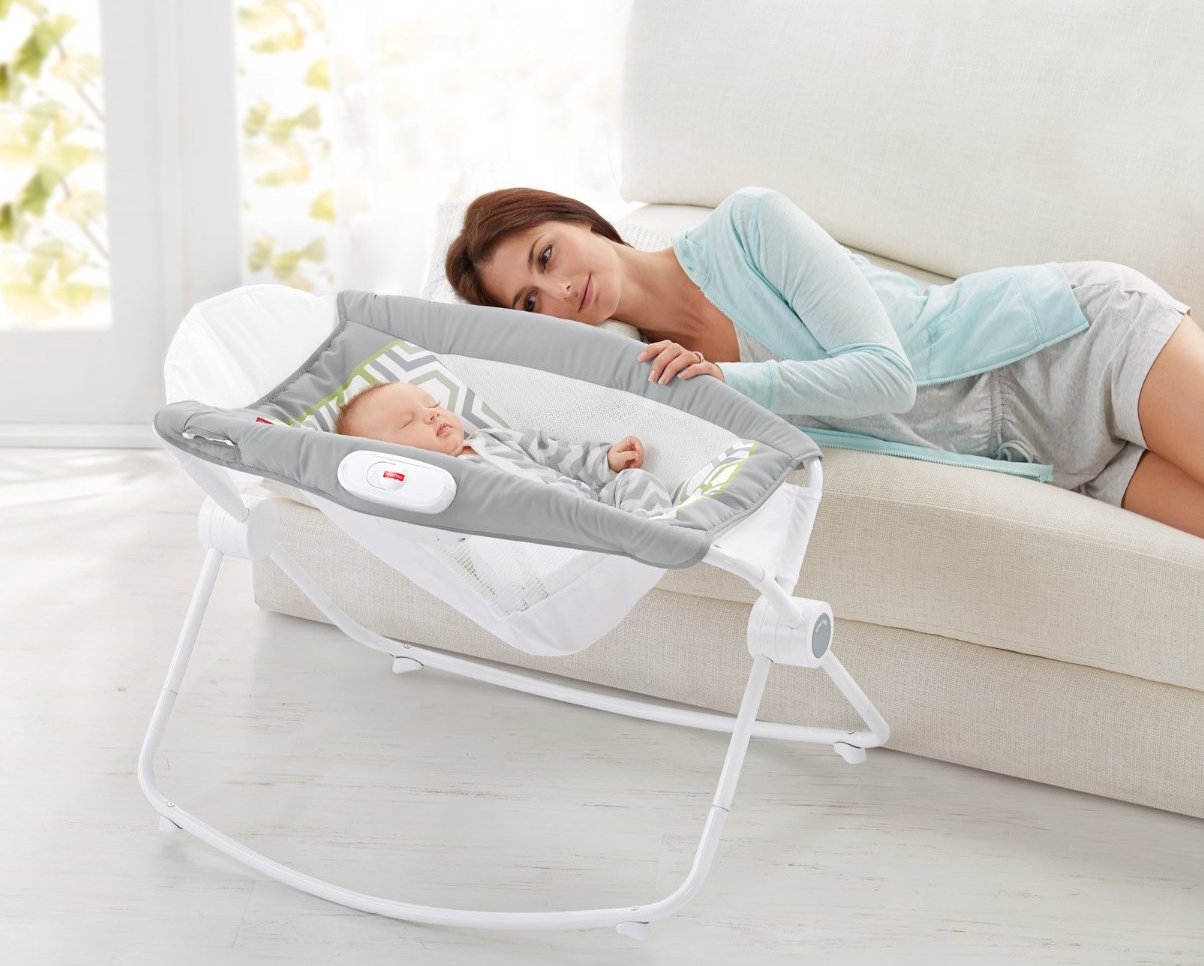 Now I know now that this is a common registry item (I hadn't know prior to having a baby though.) However, we didn't think we would need this from my sister because since we live in a small apartment, it seemed like it would be just another chair-like item taking up more space. We already had a Pack 'N Play, a space saving swing, and another baby chair that vibrated, and elephant mat that's apparently a "baby gym".. why waste space with a Rock 'N Play?
What I love about the Rock 'N Play is that it serves many purposes. This item is by far our baby's favorite place to nap. I love that it's a cozy little nook that snuggles her in so that she's always comfortable. I also love how you can lay next to the Rock 'N Play and, as the name describes, rock your baby when he or she gets a little fussy and it usually puts them back to sleep. You don't really even have to get up or move to do so! Love it.
Also, when our baby has a hard time falling back to sleep after a middle of the night feeding, she will usually start crying when we try to lay her flat on her back in the bassinet she typically sleeps in. However, when we move the Rock 'N Play into our bedroom and put her in it instead, she usually settles down MUCH faster. Which means mama can go back to sleep sooner! Woo hoo!
Now because my Rock 'N Play is a hand-me-down, it's an older model that does not include the calming vibrations switch. That's just an extra bonus for all you parents buying a new one :)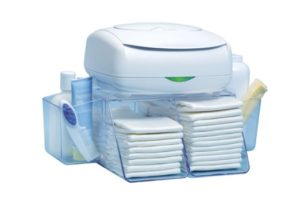 Babies are super sensitive, especially when it comes to temperature. Our baby girl HATES being cold. Weighing in at a teeny tiny 5 lbs 9 oz when she was born, chances are she was cold often since she had so little meat on her bones! Therefore, using a wipes warmer made diaper changing so much better for everyone.
Our baby does not like to have wet or dirty diapers. To make matters worse, when you add in a cold wipe on top of it, you had one upset little baby. Once we finally plugged in the warmer and began using the warmed up wipes, it made a world of a difference! Instead of seeing and hearing our baby girl cry during and after a diaper change, she started to actually smile instead, which just melts my heart.
This particular wipes warmer also has a "diaper depot" that the warmer sits on top of that you can use to store diapers, creams, etc. I love having that! It makes it so much easier to have everything you need for diaper time right at your fingertips and organized! It's actually really funny, because I had no idea what the "diaper depot" was when my sister gave it to me because it looked like just junky plastic containers that served no purpose. My mom was over and we both decided I should just toss it. However, I called my sister first and she yelled at me to keep it that it comes in handy and I'm so glad I did! We just love it now. Yay for extra organization. While the Diaper Depot is sold separately from the warmer, I definitely highly recommend splurging for it.
Every three months, the heating pad in the warmer needs to be replaced. Click HERE to stock up on them! :)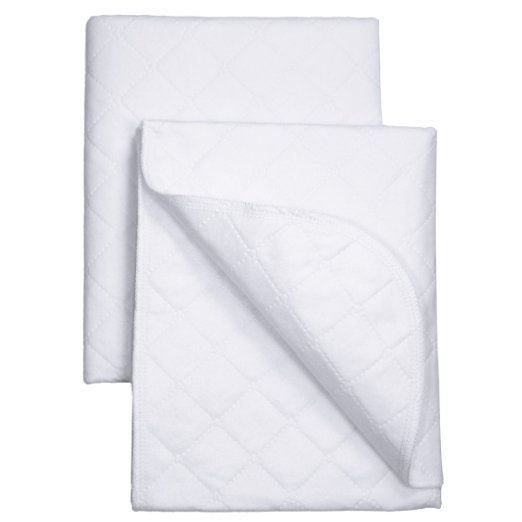 These pads are amazing! Another item I was about to store away and not use but let me tell you, I use these every day. These water resistant and absorbent protectors lay on top of your changing table pad to protect the pretty changing pad cover from getting stained and gross. Believe me, baby poop stains very easily! So when you have a major blow out, you'll be glad you had these protector pads laid out.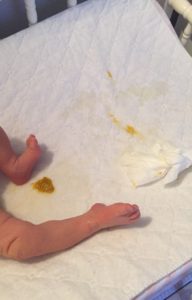 Sometimes, sh*t happens! Literally. This picture is from when my husband was changing our daughter before work one day. He said he went through 4 diapers in one changing session along with this mess inthe pic! Thankfully, we had one of the protector pads down!
These protectors are also good for catching spit up too, not just the messy diapers. I only bought two pretty changing pad covers (that perfectly match the nursery) and I would be doing laundry just about every day to wash them if I didn't have these protectors. Plus, I would much rather have these guys stain than my pretty sheets. You can also use these in the crib just in case there's a nighttime leakage situation going on. But we haven't gotten that far yet!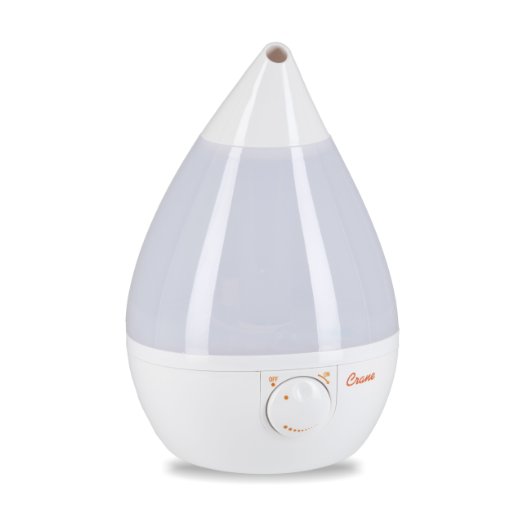 One thing I never knew before having a baby was that they have stuffy noses all the time. Our baby would constantly be snorting and sound congested which I was told is pretty typical of newborns. However, our home is very dry, which didn't help the situation. Therefore, we got a humidifier and once we started using it, the snorting and stuffiness lessened by a lot.
It's so hard to listen to a congested baby, especially when you can't have them blow their nose! Therefore, this was definitely something that we are glad we have that I wouldn't have thought to buy beforehand.
I seriously think the WubbaNub is the coolest invention! It's a stuffed animal attached to a pacifier. Genius! The thing that I love so much about the WubbaNub is the fact that the stuffed animal helps props the pacifier up so that when the baby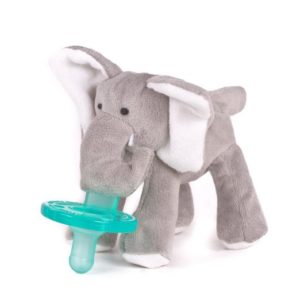 accidentally drops the pacifier out of his or her mouth, the animal keeps it up so they are able to get it back into their mouth.
Also, it's a pacifier with a built in toy. I remember when our daughter was only a few weeks old, my husband and I looked over and we saw her sleeping with the baby elephant gripped in her hand. It was literally the cutest thing I think I ever saw in my entire life. She looked so peaceful and in love with her 'Lil Ellie, as we affectionately named her WubbaNub.
Also, the WubbaNub is so large that it's very difficult to lose. Parenting win. Before we used the WubbaNub, we had a regular pacifier that we used on occasion, but I swear we lost that thing ALL . THE . TIME . Not anymore! :)
The WubbaNub comes in many different animal options to choose from. We opted for the elephant because we also have a matching elephant activity mat. However, you can get a lion, monkey, giraffe, dog, etc. You name it! The WubbaNub is definitely a favorite in our house.
What Are Your Favorites?
While there are probably a million other baby items I use and need on a daily basis, this list is a list of items that you wouldn't typically think of that have been really helpful to me after having a newborn. I'd love to hear what other items you never knew you needed until you had a baby! Comment below to share :)
*Please note that this page contains affiliate links to different products and I receive a small commission that helps support my blog when someone purchases something from the links. I don't recommend stuff I wouldn't use myself. :)