This soup is perfect to make on a Sunday night and serve and eat for lunch throughout the week. It's super healthy, easy to make, and this recipe yields a TON. Black beans are extremely healthy and provide lots of important nutrients your body needs. They are very high in fiber, folate, protein, and antioxidants, along with numerous other vitamins and minerals. I prefer this particular soup to some of my other recipes because the addition of the legumes fills you up and it can therefore serve as a full meal on its own.

Typically when I think of soup, especially black bean soup, I think of winter. However, this soup is actually very light and because of that, I eat it all year round!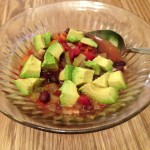 Black Bean Vegetable Soup Recipe
2013-07-04 22:32:32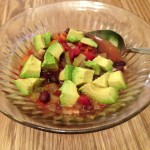 A light and delicious black bean vegetable soup to enjoy all year round!
Ingredients
1 large chopped onion
2-3 chopped celery stalks
2-3 large carrots, or 1 cup chopped baby carrots
3 cloves garlic
2 cans back beans drained and rinsed
1 can of diced tomatoes (optional - with chiles)
2 cups beef broth
1 1/2 tsp chili powder
1 tsp cumin
OPTIONAL: avocado to top
Instructions
1. Saute onion, celery, carrots, and garlic in a large pot until tender.
2. Add in the broth, beans, and dice tomatoes.
3. Season with chili powder and cumin.
4. Cover and let simmer for about 20 minutes.
5. Serve and top with avocado.
Eat Teach Laugh Craft https://eatteachlaughcraft.com/