One of my favorite summer side dishes is an Asian cole slaw dish that is made with ramen noodles, cabbage, sugar, soy sauce, oil, and vinegar. It's SO good. I always crave it in the summer and it's the perfect dish to bring to BBQs! I decided to modify the original recipe and see if I could come up with a low carb and sugar free alternative that's still a crowd pleaser.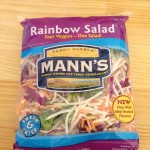 I replaced the ramen noodles with veggies that still provide a nice crunch. I use the Mann's Rainbow Salad mix which is made up of broccoli, cauliflower, red cabbage, and carrots. Feel free to chop up your own veggies if you so desire! This is one of the few meals I use a pre-cut veggie mix and I do so for two reasons: 1) It saves you tons of time (perfect for those nights you need to make dinner quickly) 2) You get a variety of vegetables at a low cost.
Since I mentioned I make this recipe when I'm trying to cut down on time, I usually throw in some leftover grilled chicken to make it a complete meal. If you don't have pre-made chicken, I would recommend chopping up about 4 thin sliced chicken breasts or 2 thick chicken breasts to add to the salad. If you're going for a side dish, you can leave out the chicken and it still tastes great!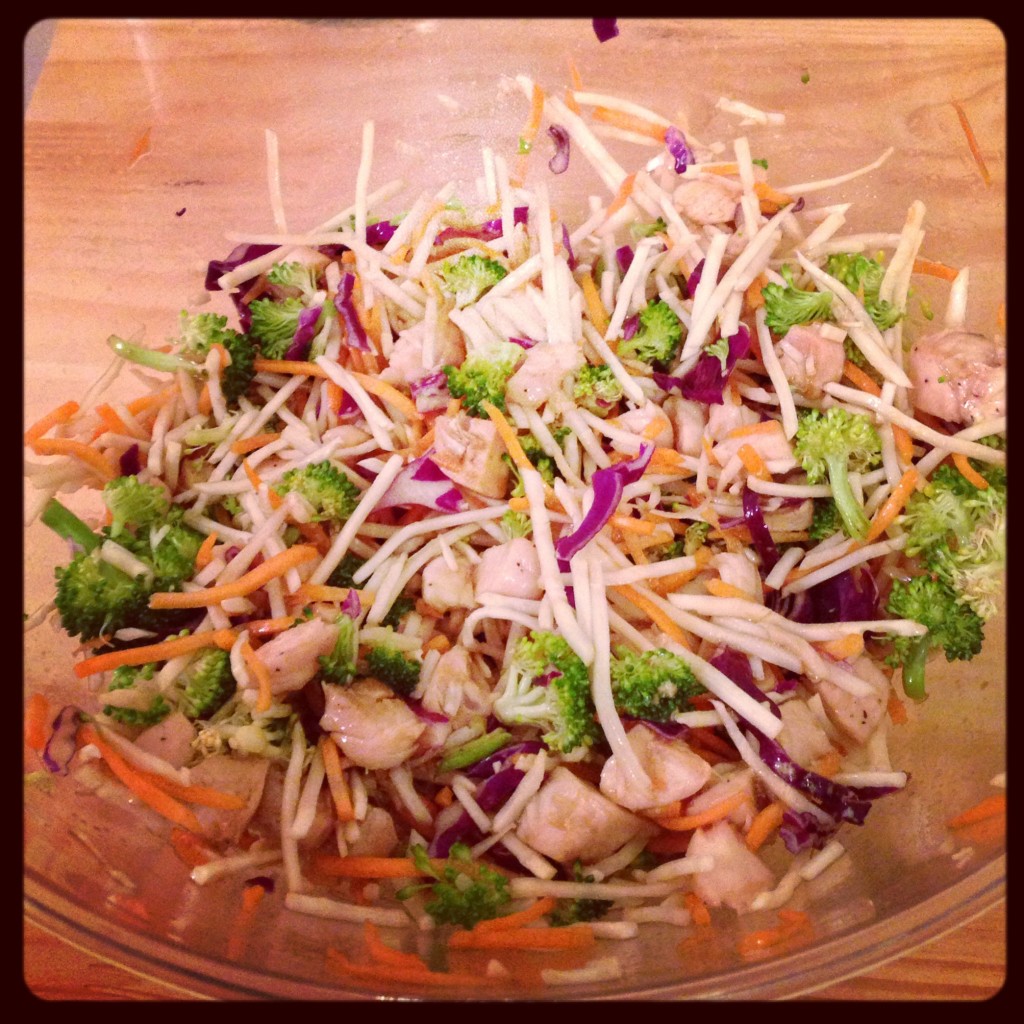 For the dressing, mix together the olive oil, vinegar, soy sauce, and stevia and then pour the mixture over the veggies and chicken and mix thoroughly.
Comment below to let me know how it turned out! Enjoy!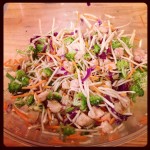 Healthy Asian Rainbow Chicken Salad Recipe
2013-07-16 19:11:46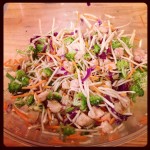 Serves 4
Ingredients
1 package Mann's Rainbow Salad (12 oz)
4 thin sliced chicken breasts, grilled and chopped
3 tbs soy sauce
2 tbs red wine vinegar
1/3 cup olive oil
1/4 cup stevia
Instructions
1. Cook chicken and chop up into bite size pieces.
2. Mix chicken and veggie mix together in a large bowl.
3. In a small bowl, mix together soy sauce, vinegar, oil, and stevia.
4. Pour dressing mixture over the chicken and vegetables and mix thoroughly.
5. Serve and enjoy!
Notes
*If you are gluten free, try using liquid aminos instead of soy sauce for a similar taste.
Eat Teach Laugh Craft https://eatteachlaughcraft.com/