So this recipe was inspired because a few days after we got home from our honeymoon, my husband (still feels weird saying that!) had to get oral surgery and found out that he couldn't eat solid foods for 6-8 weeks!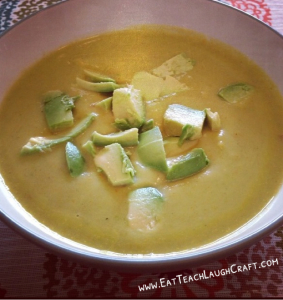 Now, for people who LOVE to eat, this was devastating news! We originally thought it would be a 2-3 DAY recovery, so we stocked up on some pre-made soups and easy-to-eat things like pastina and ice cream!! :)
We figured that it would be ok to eat whatever we wanted during the recovery period since it would only be a few days. (And yes, even though I didn't have the surgery, my rule of marriage is that you get to do whatever your spouse gets to do!! haha)
Well, once we went back to the oral surgeon and found out that it wasn't a weekend recovery but rather a couple of months, I knew we couldn't live on pasta, pre-made soups, and ice cream for that entire time. (Even though it was tempting!)
I decided to make a few big batches of healthy soups to eat throughout the week. I don't really make a ton of soups regularly and didn't have recipes to follow, so I kind of made it up as I went. Thankfully, this cream of broccoli soup came out pretty well!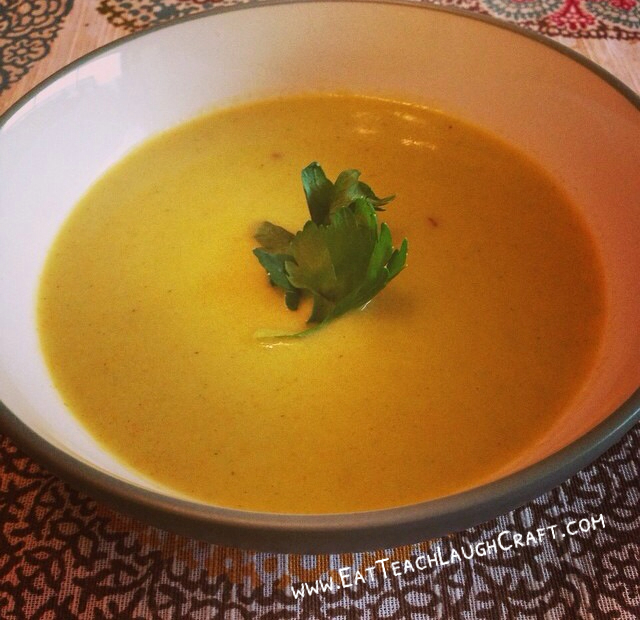 Let me know what you think! Enjoy :)
Dairy Free Creamy Curry Broccoli Soup
2014-10-07 20:52:07
Ingredients
16oz bag of frozen broccoli
16oz bag of frozen broccoli & cauliflower mix
2 medium carrots
2 medium onions
3 cloves garlic
4 cups broth or stock of choice (I used chicken)
13.5oz CAN of FULL FAT coconut milk
Spices to taste (salt, pepper, red pepper flakes, curry powder - a little goes a long way)
Instructions
Boil broth in large stock pot, add in frozen veggies and continue to cook on medium.
Chop and saute carrots, onions, and garlic for about 3 minutes or until soft.
Add sauteed veggies and seasonings to stock pot and continue to cook for about 5-7 minutes or until all veggies are cooked and tender.
Remove from heat and use an immersion blender to blend the veggies together until they are smooth and soup-like.
Once smooth, add in can of coconut milk. Blend until thoroughly mixed.
Eat Teach Laugh Craft https://eatteachlaughcraft.com/