One of the hardest parts about trying to eat healthy is that I go on these crazy shopping sprees and buy all this really healthy food, however the lettuce always seems to go bad before I get to use it all! It's super annoying and I hate the waste. This salad recipe helps eliminate that waste because there is no lettuce involved at all. It's the perfect refreshing side dish. Bonus points because it's filled with lots of beautiful colors! Growing up I was always told to make sure I "eat the rainbow".
Like most of my recipes, this one is simple and can be ready in a matter of minutes. You can use a variety of vegetables for this salad, however my favorites tend to be cucumbers, artichokes, tomatoes, and red onion. Feel free to vary as you please! **Throwing in some beans is an option as well to add more fiber and protein.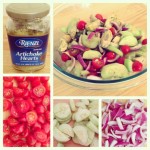 All you really have to do is chop up the veggies, toss them together in a bowl, and add my quick and easy homemade vinaigrette dressing made with extra virgin olive oil, balsamic vinegar, spicy brown mustard, salt, and pepper. A little bit goes a LONG way with this dressing, so just pour enough to coat the veggies. Enjoy!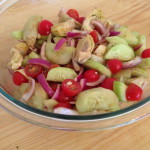 Leafless Salad Recipe
2013-07-05 14:11:18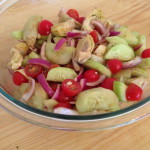 This leafless salad is the perfect side dish to any meal. It's packed with nutrients and super fast and easy to make!
Salad
1 medium cucumber, chopped
1/2 red onion, chopped
1 pint grape tomatoes, halved
1 can artichoke hearts, quartered
Dressing
1 tbs extra virgin olive oil
1 tbs balsamic vinegar
1 tsp spicy brown mustard
salt and pepper to taste
Instructions
1. Chop up all the veggies and combine in a larger bowl.
2. Mix together all of the ingredients for the dressing.
3. Pour dressing over the veggies.
4. Let sit in the refrigerator for about 10-15 minutes to settle.
5. Serve and enjoy!
Eat Teach Laugh Craft https://eatteachlaughcraft.com/