Oven roasted brussel sprouts are one of my favorite side dishes. They're naturally low in both calories and fat. They also contain more fiber and protein than most other vegetables which makes them a great veggie to keep you full for a longer amount of time. My fiance doesn't HATE brussel sprouts, but he doesn't love them either. Adding bacon, to anything really, but especially brussel sprouts, definitely helped him enjoy eating them a lot more.
This dish is a traditional side dish that my family makes for most of our holidays. However, the recipe that has been passed down in my family is loaded with butter and fatty pork bacon. I decided to modify the recipe to create a healthier version.
Instead of butter, I drizzled the brussel sprouts with a garlic infused olive oil. I'm lucky enough to live above Olive That and More which is a cute local store that sells tons of flavored olive oils and vinegars. However, if you don't have the luxury of owning your own garlic flavored olive oil, extra virgin olive oil will do just fine! Just sprinkle garlic power over the brussel sprouts to season.
Instead of regular fatty bacon, I opted to use a nitrate-free turkey bacon. While I do love regular bacon on occasion, turkey bacon is much lower in saturated fat. Saturate fat can raise blood cholesterol levels and cause heart disease. Therefore, I try limit my saturated fats.
Although this is a typical side dish, you can turn it into a main course by adding in chopped up grilled chicken and quinoa or brown rice. So delicious! Let me know your thoughts if you try it out!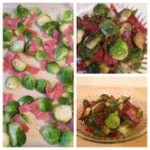 Oven Roasted Brussel Sprouts and Turkey Bacon Recipe
2013-07-09 21:31:53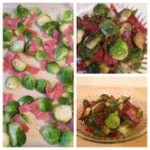 A healthier version of a traditional side dish.
Ingredients
1 package (10 oz) fresh brussel sprouts, trimmed and cut in half lengthwise
3 slices nitrate-free turkey bacon
2 tbs olive oil
1/2 tsp sea salt
1/2 tsp ground back pepper
1 tsp garlic powder
Instructions
1. Preheat oven to 400 F.
2. Trim and cut brussel sprouts in half lengthwise
3. Chop bacon into strips
4. Toss brussel sprouts, bacon strips, olive oil, and seasonings together and arrange in a single layer on a baking sheet.
5. Bake brussel sprouts for about 30 minutes, stirring once or twice throughout. The outside should be crispy while the inside should be tender.
Eat Teach Laugh Craft https://eatteachlaughcraft.com/