Eating a protein-filled breakfast is an important part of staying healthy, fueling your metabolism, and both losing and maintaining your weight. Unfortunately, many breakfast foods are high in carbs. Eggs are an obvious choice, but you can only eat eggs every morning for so long before you get sick and tired of them. That's where this new recipe comes in. The best part is that it tastes like you're eating cookie dough for breakfast! Who wouldn't love that?
In addition to a breakfast food, these protein balls make excellent snacks for when you are craving something sweet. Every time we run out, my fiance continues to hint that I should make some more. You should be warned, they are addicting and go fast! This version is my latest recipe that I used to make them. Feel free to play around with the amounts of ingredients. I usually don't measure exactly, hence the approximation you see. Let me know how they come out and any adaptations you make!!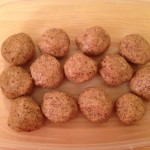 Peanut Butter Protein Balls Recipe
2013-07-04 21:43:41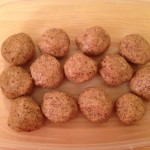 A delicious and healthy protein packed treat that tastes like cookie dough!
Ingredients
1 1/4 cup almond flour
3 tbs natural peanut butter
2-3 tbs melted coconut oil
12-15 drops liquid stevia
1-2 drops pure vanilla extract
1/8 tsp salt
chia seeds (as desired and optional)
Instructions
1. Mix together almond flour, chia seeds, and salt in a large bowl.
2. Mix together oil, peanut butter, stevia, and vanilla extract until smooth.
3. Pour the peanut butter mixture over the dry mixture and combine thoroughly.
4. Form into 12-14 balls and refrigerate overnight.
Eat Teach Laugh Craft https://eatteachlaughcraft.com/