Social media has made my healthy eating lifestyle change SO much easier. When I start to lose motivation or get bored of the meals I continuously cook over and over again, I start looking through instagram, pinterest, and/or use google to find some new ideas. I always find a ton of fabulous and innovative recipes that other people have tried and then modify them to fit my particular diet.
This post is my first installment of my own personal pinspiration. *Please note that these photos are taken from Pinterest and are not my own.
Here are this week's top 5 Pinterest recipes: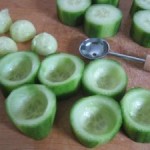 1. Cucumber Cups. These are just amazing. As a non-bread eater these days, I miss not being able to just pick up a sandwich and eat it. As much as I love eating salads, I do get sick of them every once in a while. This cute little cucumber cup would be a perfect option to stuff with tuna/chicken/egg salad. Not to mention, it's perfect for a summer lunch because the cool cucumber is so refreshing! Original Link from Pinterest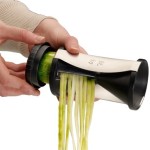 2. Spirelli Spiral Cutter. Now, while this isn't necessarily a recipe itself, this little machine cuts veggies into a spaghetti shape. How could you not love that?! This also opens up a huge possibilities for future recipes. This is the one gadget I am dying to get my hands on that I don't already have! Can't wait to buy and try this guy out. Original Link from Pinterest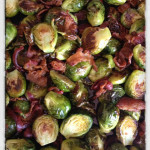 3. Bacon and Brussel Sprouts. Brussel sprouts are one of the most underrated foods in my opinion. They get such a bad rap for no reason! You just have to cook them in the right way. Adding bacon is definitely one of those right ways. Although this is a Pinterest recipe I found online, this has been a traditional dish in my family for years. I plan to post my own version of this fabulous recipe in the near future! Original Link from Pinterest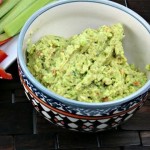 4. Spicy Edamame Guacamole. Ok so I got super excited when I saw this post because a) I love edamame and b) I love guacamole. So put them together and you're sure to have one awesome dip! However, one major pitfall of Pinterest, in my opinion, is that a lot of the links do not work when you go back to look at the source and actual recipe. But fear not. I am determined to make this anyway and improvise as I go. Hopefully it will taste as good as the picture looks. I'll be sure to write a post about it when I do!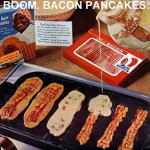 5. Bacon Pancakes. Ok, so yes, this is the second bacon meal within this one post, but how could I pass this one up?? Bacon and pancakes are both two of my favorite foods. Therefore, putting them together is, once again, ingenious! However, because I'm not eating flour, I would definitely modify this recipe and use my own pancake recipe instead, to keep it slow carb. The Pinterest link is just a link to a picture. But I think in this case like they always say, a picture is worth a thousand words. Original Link from Pinterest
ENJOY! Let me know what some of your favorite Pinterest recipes are!