Salads are a popular lunch item for most. They are easy to make when in a rush, and require many ingredients? Most people think of a salad as just a side. There's just not much to a salad. Can it really be considered a meal? Well, in this weeks Pinterest Recipe Round Up, I've found some salad recipes that will change your mind. So if you're bored of your same old salad for lunch everyday, take a chance and liven them up by creating healthier meals that will satisfy your hunger and your tastebuds.
Lighter Cobb Salad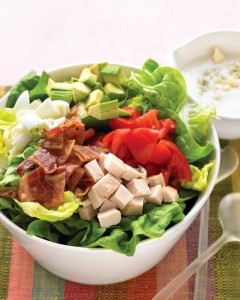 A cobb salad has many ingredients we love! However, if your watching your diet it may be something you pass up because it's high in calories. This lighter cobb salad is all about portion control and substituting a few ingredients. For "just a salad" this protein packed lunch will certainly keep you full. Instead of using regular bacon, choose turkey bacon instead for a leaner meat. Also, use turkey or chicken instead of ham to cut back on the calories. Whenever I order a cobb salad out, I always as them to replace the creamy dressing with oil and vinegar. If I'm making a cobb salad at home, this swap is super easy as well. In my eyes, the fewer ingredients included in a dressing, the better. Plus, with all of the flavors from the salad itself, you won't even need a creamy dressing to enhance the taste. To make this salad, include your veggies, hard boiled eggs and dressing and you're ready to enjoy!
Layered Chicken Taco Salad
Tacos are fun and delicious dinner treat! Have you ever wanted all the taco goodness, just with out the shell? Try this layered chicken taco salad recipe or a new twist on tacos and your salad! There are so many benefits to having a taco salad. First, this salad calls for chicken which is a great way to add in a lean meat and extra protein. This recipe calls for a few of the basic essentials, but feel free to add whatever you want. The great thing about tacos is there's no wrong way to make them. Include your favorite taco toppings like salsa, black beans, and cilantro. Skip the chips and cheese if you're sticking to slow carb.
In a large bowl layer your mixed greens, chicken, taco toppings and repeat layer. Top it off with salsa and you've just created a new way for your family to enjoy taco night. This is also great for lunch the next day!
Lush Winter Salad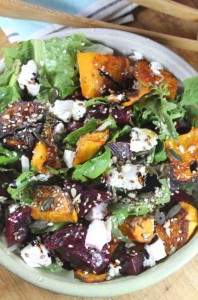 You may think of spring or summer when you hear the word salad. In the winter most people want to feel warm, comfy, and satisfied. You may not jump at the idea of having a salad as a meal in the winter, but there plenty of hearty recipes that may make you change your mind. This lush winter salad recipe calls for some of our favorite winter veggies, butternut squash! Follow the cooking instructions for the squash, and while it's roasting combine the rest of the ingredients together.
Mix fresh mixed greens, fresh basil leaves, cubed beetroots, and red onion all together. You can add some other favorites if you like such as a ripe avocado. Toss everything with olive oil and balsamic vinegar and top with mixed seeds. When the butternut squash is done cooking simply place on top of your salad and top with crumbled feta cheese. This delicious recipe will warm you right up. Once again, feel free to skip the cheese if you're doing slow carb. The veggies are flavorful enough on their own without it.
You don't have to wait until summer time to get a fresh salad. Put a unique twist on some of your dinner favorites, or warm up with a lush winter salad! These recipes will leave you more than satisfied.
Want To Keep Up With Our Pinterest Recipes?