One of the biggest challenges of eliminating most carbs from my diet was that I felt a lack of substance in my meals. Classic meals I used to eat often contained rice as a filler, such as in taco salads, stir fry recipes, or chicken bowls. When I started to make these meals without the rice, they still tasted good, but my brain and stomach weren't completely satisfied. My bowls transformed from these massive quantities of delicious food to much smaller portions that just did not seem to get the job done exactly. I finally decided something else needed to be done.
I began reading blogs about people using cauliflower as a substitute for most starchy foods: cauliflower mashed potatoes, roasted cauliflower, etc. However, the one idea that really peaked my interest was cauliflower "rice"; the perfect substitute for my classic go-to meals.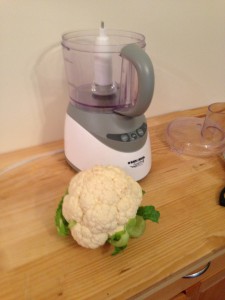 The idea of creating rice out of cauliflower initially sounded complicated and time consuming, but after my initial experiment, I soon found out that that was not the case at all.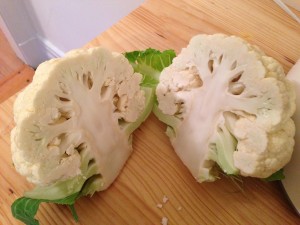 Because a whole head of cauliflower makes a tremendous amount of "rice", I typically cut it in half and save the other half for another recipe throughout the week, such as my scrumptious mashed "potatoes".
First, cut the cauliflower into golf ball size pieces and toss into the food processor. Be careful you don't overfill your food processor. One it is filled, pulse for about 20-30 seconds. It really only takes about that amount of time to create "rice" sized pieces! It's amazing. Be careful you don't make the pieces too small because they might become too mushy when they cook!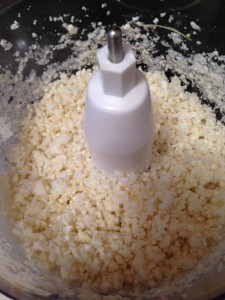 Mix the "rice" about a ¼ cup of chicken broth together in a pan and cook on med-low heat for about 5 minutes. The "rice" should be heated throughout.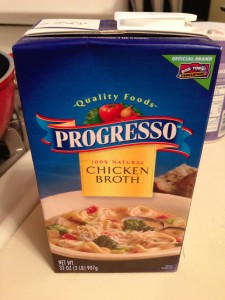 While the "rice" is cooking, season with salt and pepper if desired. Serve as if it were actual rice and enjoy!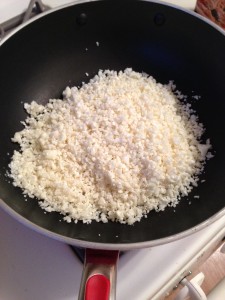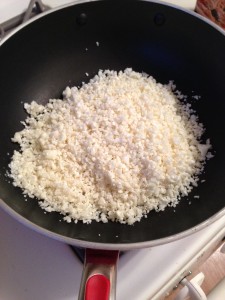 Cauliflower "Rice" Recipe
2013-05-12 17:08:54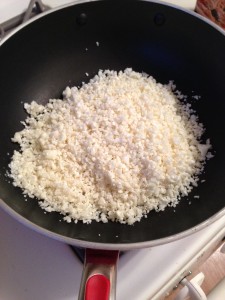 Low carb rice alternative!
Ingredients
1/2 head cauliflower
1/4 cup chicken broth
Instructions
1. Chop the head of cauliflower into golfball sized pieces.
2. Place cauliflower pieces into the food processor.
3. Pulse food processor for 20-30 seconds, until cauliflower resembles a rice-like texture.
4. Mix chicken broth and cauliflower rice together in pan.
5. Cook on medium for about 5 minutes, stirring frequently, until "rice" is tender and heated throughout.
6. Remove from heat and season as desired.
Eat Teach Laugh Craft https://eatteachlaughcraft.com/