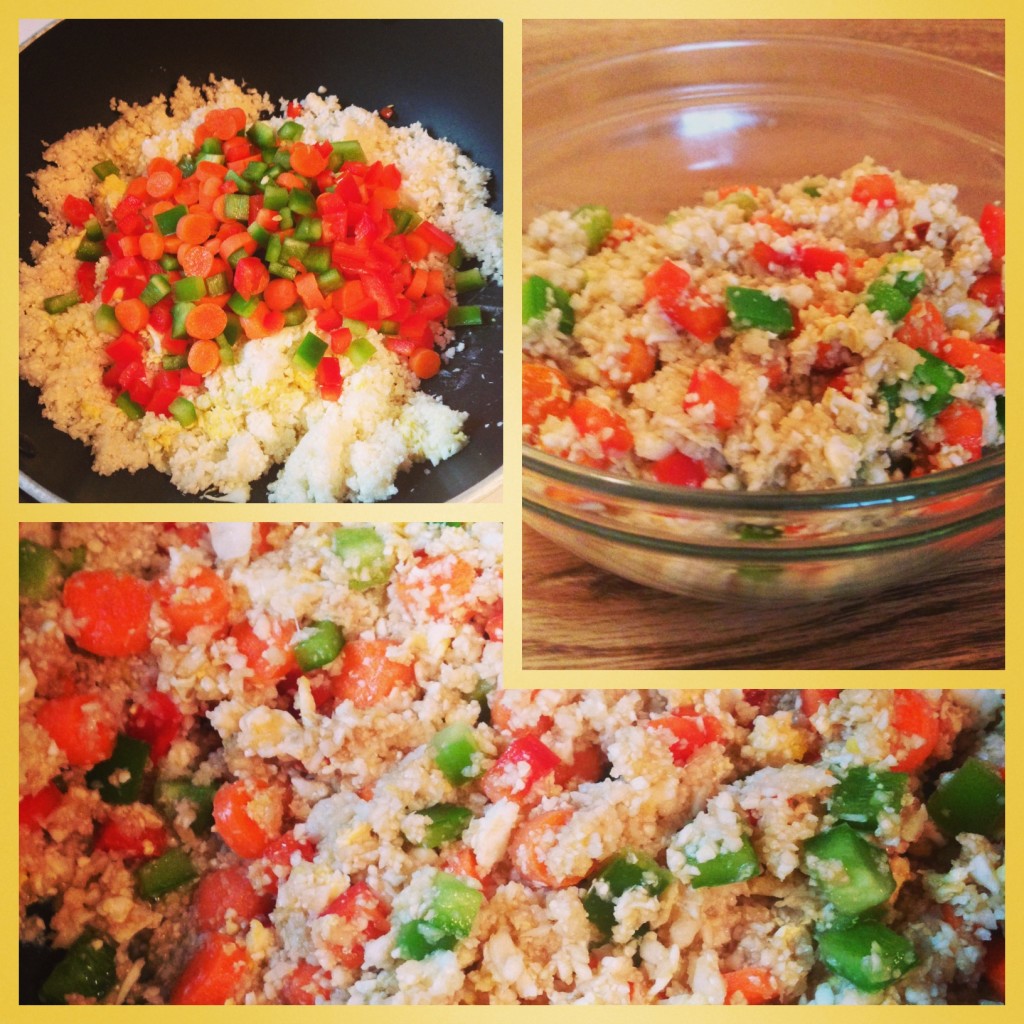 This is one of my absolute favorite recipes! It tastes like it's a cheat day food when in fact it's actually good for you. Those are the best kind of meals, in my opinion! This dish looks more complicated than it actually is. It takes about 20 minutes from start to finish, but most of the time is spent prepping the veggies.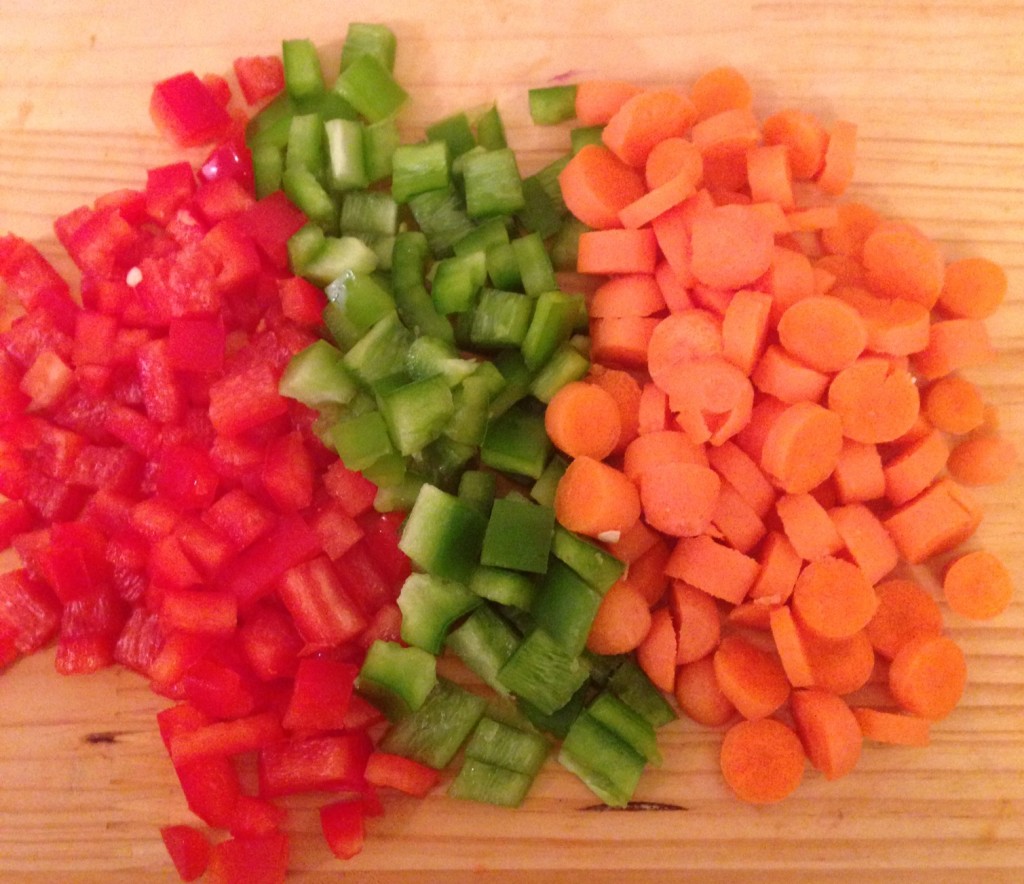 The major difference between my recipe and a traditional fried rice recipe is the fact that I'm substituting the actual rice for cauliflower "rice". I wrote an earlier blog post on how to "rice" cauliflower. Check it out here if you'd like the instructions.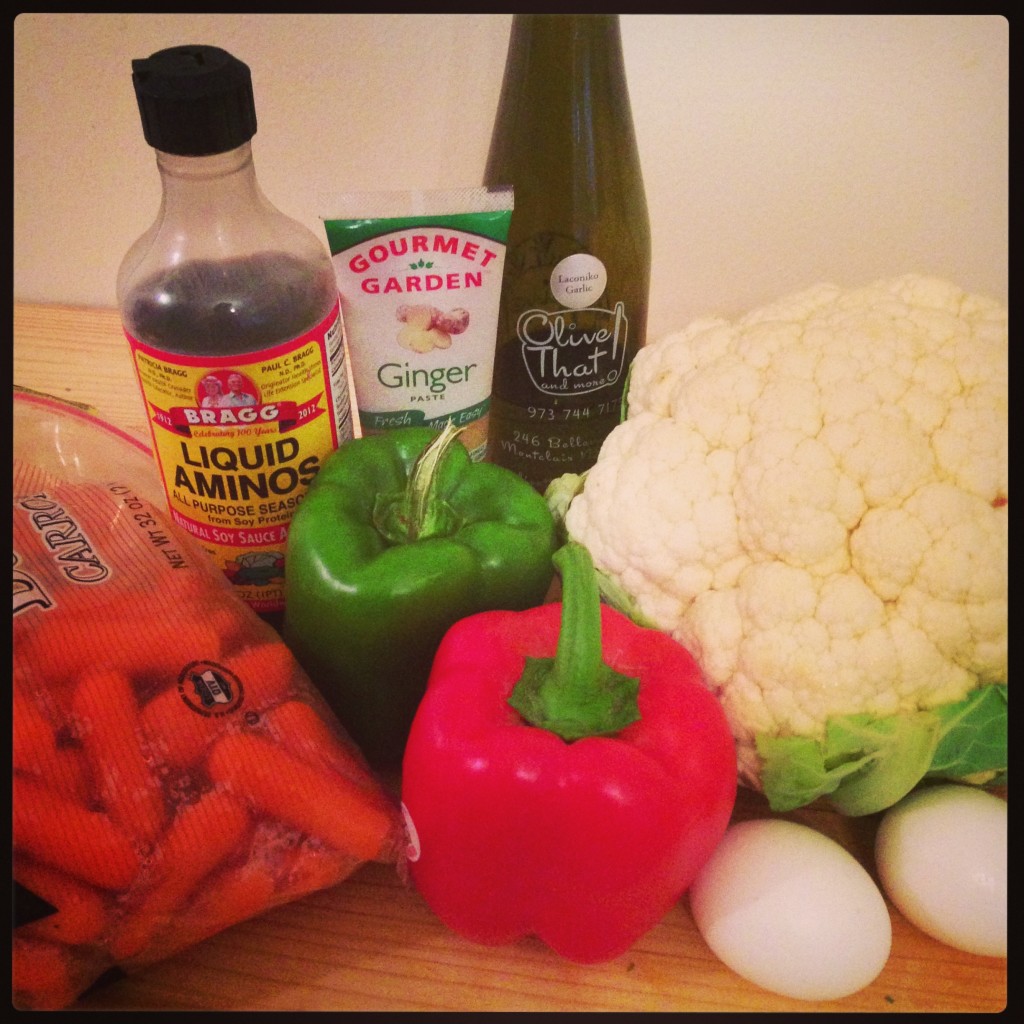 Start off by pouring the oil in the bottom of the pan and heat on medium heat for a few minutes. I used about 2 tbs of oil, however, I don't measure exactly. Just make sure the pan is covered. Next crack the eggs into the hot oil and scramble until they are slightly cooked through.
Mix in the rest of the ingredients and continue to stir and cook on medium heat until the vegetables are slightly tender.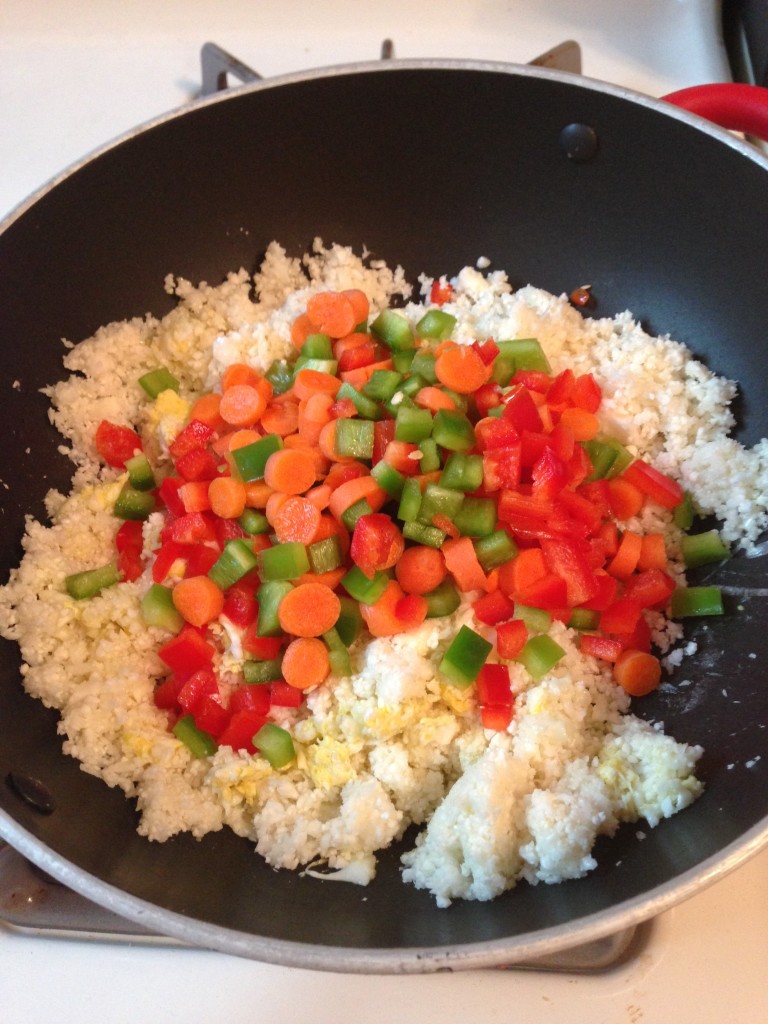 I used Bragg's Liquid Aminos instead of soy sauce because it's gluten free. Soy sauce or Tamari work well too. I've also made this recipe without the ginger as well. However, if you have it, I would definitely recommend using it because it adds such a great element of flavor!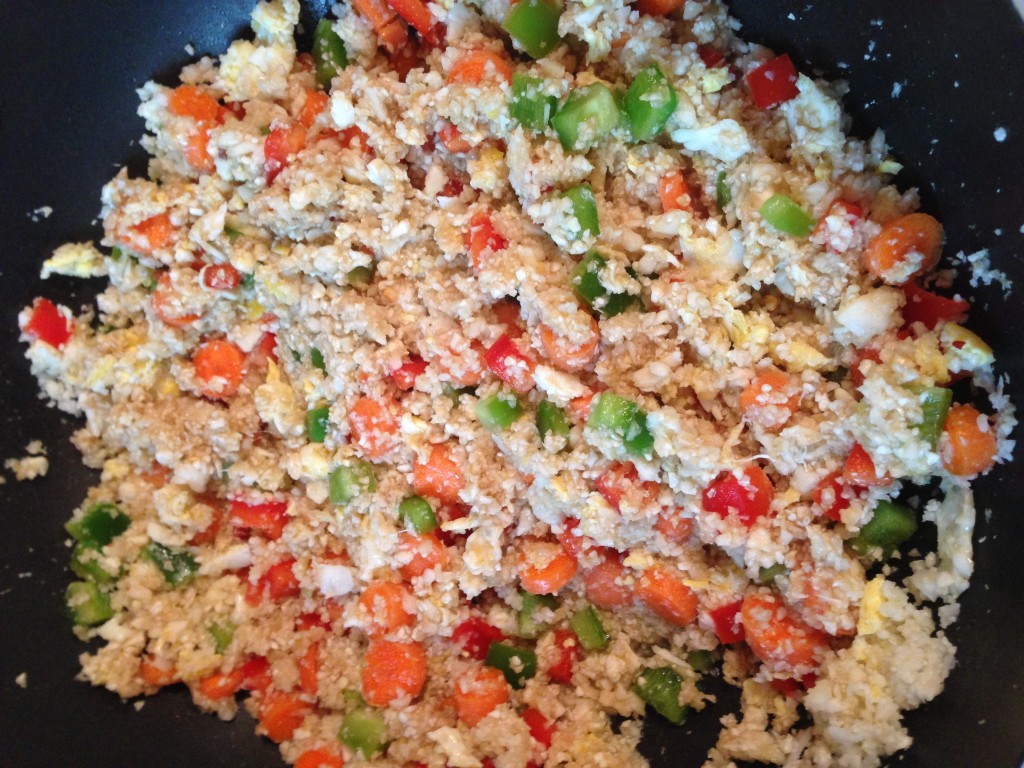 Once it's all cooked, grab yourself a big old bowl and dig in! Enjoy!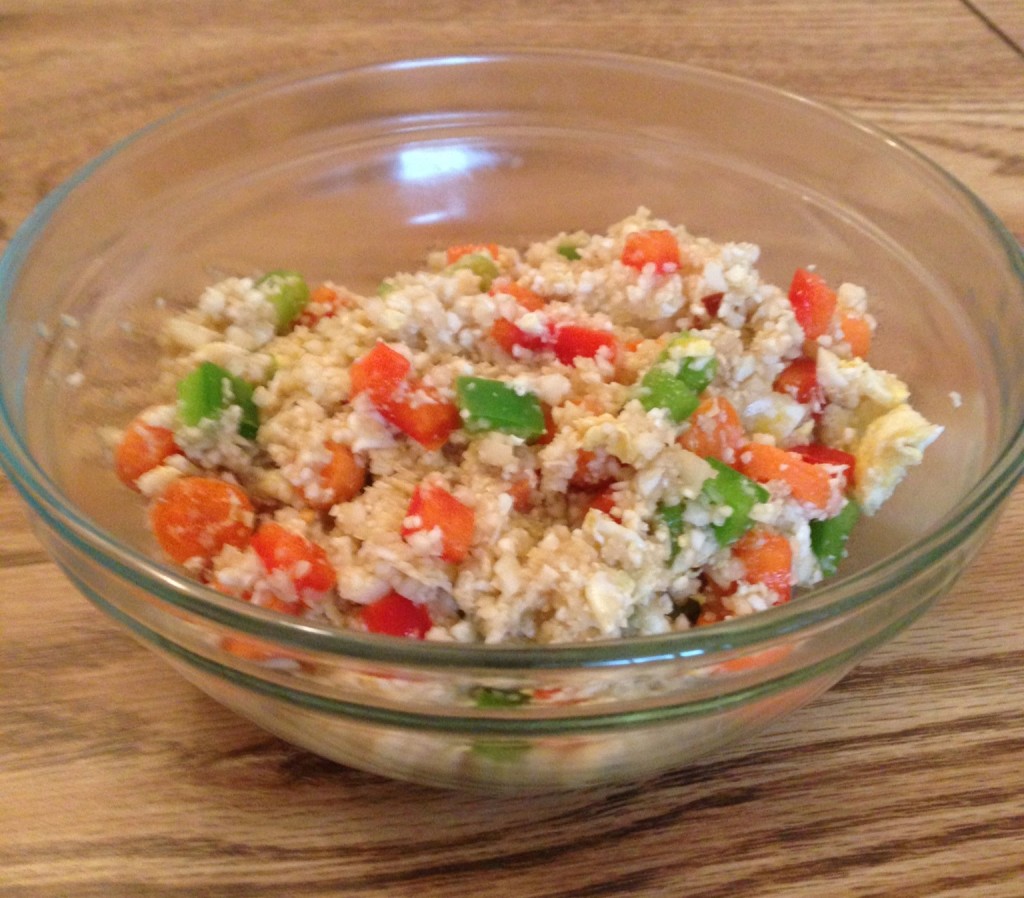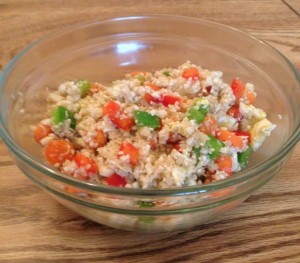 Clean and Healthy Fried "Rice" Recipe
2013-08-01 20:08:51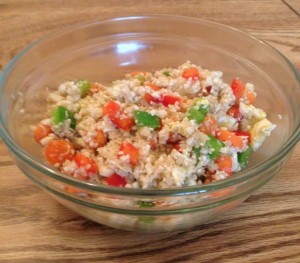 Serves 4
Clean and healthy alternative to a traditionally high carb fried rice dish.
Ingredients
1/2 head cauliflower, riced
1 red pepper
1 green pepper
10-15 baby carrots or 1 whole carrot, chopped
2 eggs
2 tbs olive oil
1 tsp ginger paste or chopped fresh ginger
2 cloves garlic, chopped
2-3 tbs soy sauce or soy sauce alternative
Salt, to taste
Black pepper, to taste
Red pepper flakes, to taste
Instructions
1. Heat olive oil on medium in a large pan or wok.
2. Crack the eggs into the oil and stir frequently to scramble eggs.
3. Once eggs are almost cooked through, add in the riced cauliflower, peppers, and carrots. Stir and mix thoroughly.
4. Add in soy sauce, ginger, garlic, and other seasonings. Continue mixing and cooking on medium until vegetables are tender.
5. Dish out and serve!
Eat Teach Laugh Craft https://eatteachlaughcraft.com/