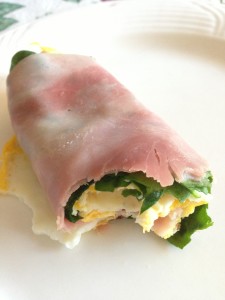 Breakfast is the most important meal of the day. This (ridiculously simple) recipe is a low carb twist on a tradition breakfast burrito. Instead of using a whole wheat wrap (like I used to), I use deli slices of ham!
First, prepare 1-2 eggs whichever style you prefer. I recommend sticking to a traditional fried egg (over easy or over medium), as opposed to scrambled, so that the burrito stays together a little easier.
To make the wrap larger, combine two pieces of ham by laying them about halfway to a quarter on top of each other. Next, place the cooked eggs and spinach on top of the ham. Roll the burrito up lengthwise. That way the two pieces of ham remain together.
Feel free to add any sauces you like such as hot sauce, ketchup, or even salsa. Let me know how it turns out! Enjoy!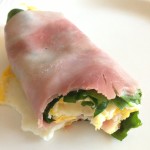 Low Carb Breakfast Burrito Recipe
2013-07-22 19:21:28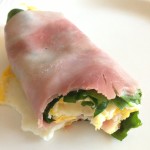 Perfect grain free and low carb alternative to a traditional breakfast burrito.
Ingredients
1-2 eggs, cooked
1/4 cup spinach
2 deli cut slices of ham
Instructions
1. Cook eggs to your liking (over easy/medium recommended)
2. Lay out two pieces of ham. Overlap the pieces about 1/2-1/4 of the way down so that the ham does not separate when it is wrapped.
3. Top ham "burrito" with cooked eggs and spinach.
4. Roll up the ham lengthwise so that two pieces do not separate.
5. Enjoy!
Eat Teach Laugh Craft https://eatteachlaughcraft.com/