Every year a few of my friends and I get together for a "Friends-giving." What this term truly stands for is a group of girls getting together to eat a delicious potluck Thanksgiving feast, drink a plethora of wine, gossip, and watch football for about 12 straight hours. It's a phenomenal day.
This year, in addition to a traditional holiday side dish, I decided to try out a new appetizer and make some homemade hummus. I had made various bean dips before but never really followed a specific recipe. I'm the type of cook who just adds ingredients as I go and hope it tastes good in the end! However, because this particular hummus was a crowd pleaser at this year's "Friends-giving", I decided afterward to jot down the recipe as precisely as possible so that others could enjoy this simple snack as well!
This recipe is by far one of my favorites to make and it really only takes about 5 minutes! We love having people over our apartment and it's the perfect snack to whip up really quickly right before our friends come over.
When I'm serving the hummus for guests or bringing it to a party, I go out of my way and buy fresh parsley. However, I typically make a batch at the beginning of each week and don't always have the fresh herbs on hand. If you have dried parsley, that will work too. These are the ingredients I use for my original hummus recipe – chick peas, olive oil, parsley, lemon juice, garlic (covered by the parsley in this picture!), salt, pepper, and I add in red pepper flakes as well. (See recipe card below for exact quantities.) Once you have the original base, you can add in any other flavors you desire. I've made spinach hummus, roasted red pepper hummus, etc. They all come out delicious! Add in the extra ingredients according to your taste.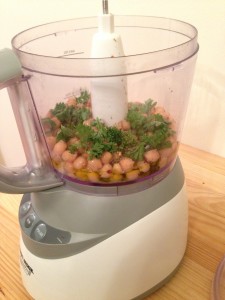 Place all of the ingredients in a food processor. Blend on high for about 2 minutes, or until smooth.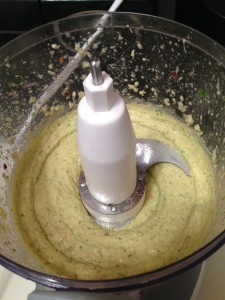 Scoop the hummus out of the food processor and into a bowl, serve with your favorite veggies or chips, and enjoy!
It really is that simple!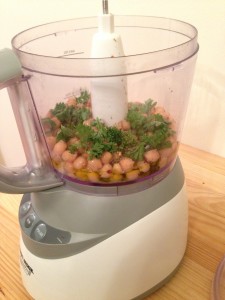 Quick and Easy Hummus Recipe
2013-05-02 22:22:54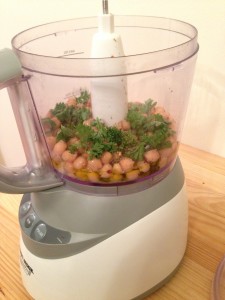 Super easy crowd pleasing snack!
Ingredients
1 (15 oz can) can chick peas, drained and rinsed
1/3 cup olive oil
2 tablespoons lemon juice (about 1/2 lemon)
About 1/4 cup parsley, loosely packed
1 clove of garlic
Salt
Pepper
Red pepper flakes
Instructions
1. Place chick peas, olive oil, parsley, lemon juice, and garlic in the bowl of the Mifood processor.
2. Pulse on high for about 2 minutes (or until smooth).
3. Season with salt, pepper, red pepper flakes to taste.
4. Add in additional vegetables to create a customized flavor of hummus.
5. Pulse mixture until smooth.
6. Transfer hummus mixture to a bowl, serve with veggies or pita chips, and enjoy! :)
Eat Teach Laugh Craft https://eatteachlaughcraft.com/