I grew up and have lived in New Jersey for a large majority of my life. Not to sound biased, but NJ has the best bagels in the world. Todd and I do our best to eat wheat free and grain free throughout the week but enjoy a day of indulgence on Saturdays. Our go-to cheat day food we always get first thing when we wake up in the morning is a breakfast sandwich on a bagel. There are few things that taste better than that!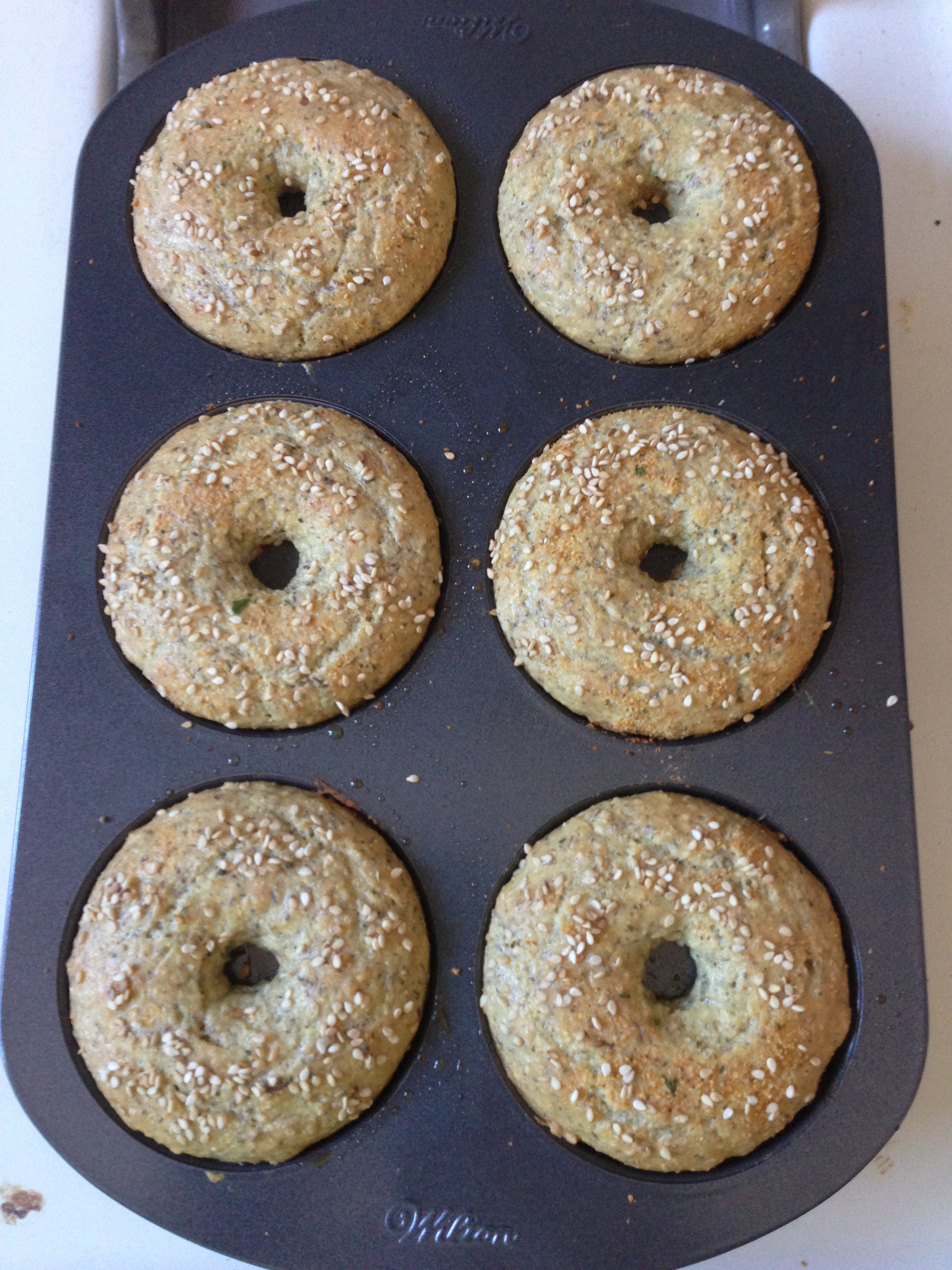 One of the things I've learned about my new style of eating is that if you deprive yourself of something you're craving, you won't be able to stick to your long term goals. That's why we participate in our Saturday day of indulgence, as well as why I try to create recipes of some of my favorite foods that fit into our new way of eating.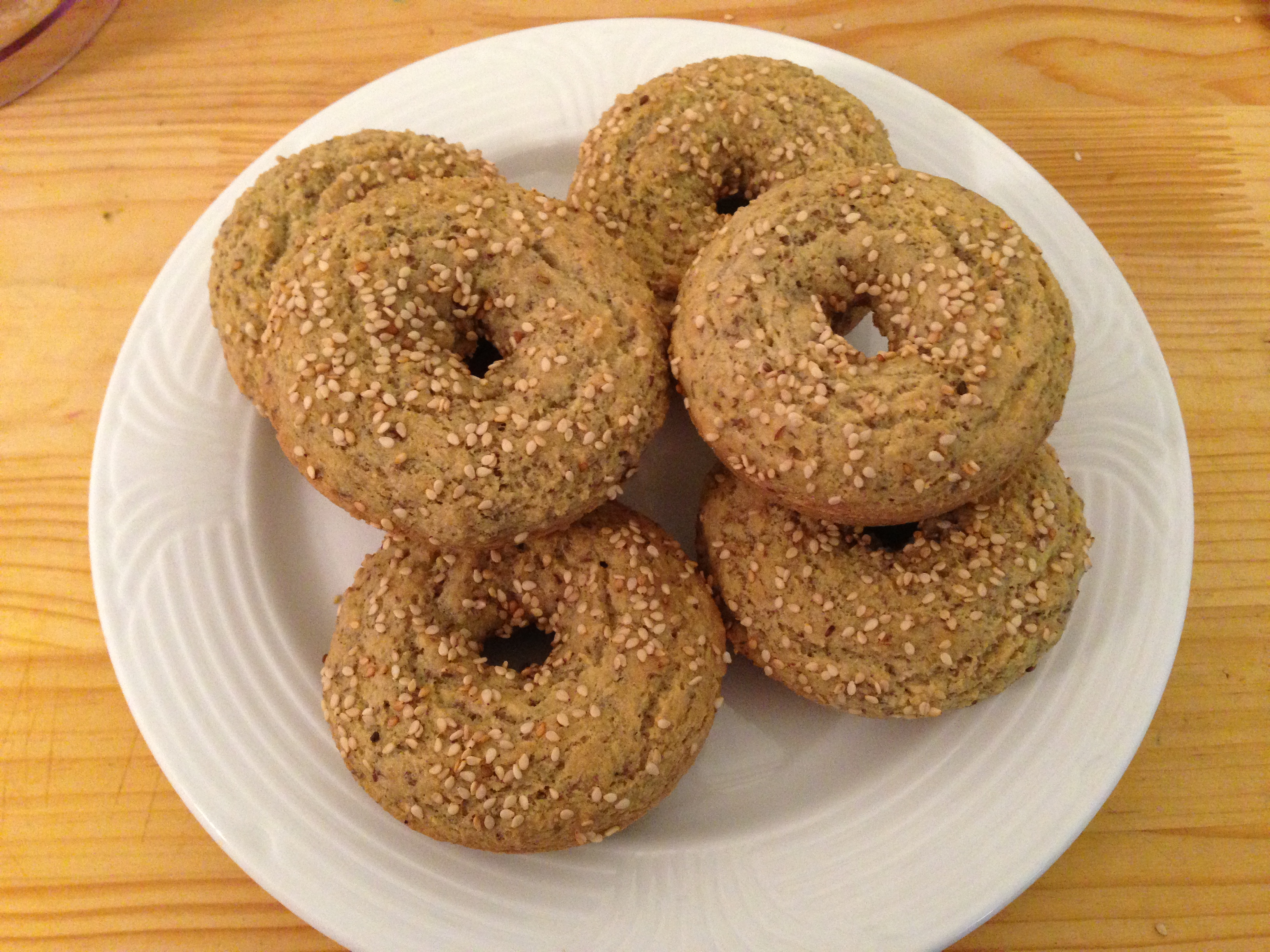 While this bagel recipe doesn't taste exactly like your fresh out of the over Jersey bagel, it gets the job done and has become a staple in our house throughout the week. We love that we are now able to enjoy our own version of breakfast sandwiches any day of the week.
Note:
To make the bagels, I used the Wilton Nonstick 6-Cavity Donut Pan. We actually ordered two so we can double the recipe! Enjoy :)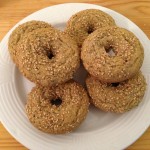 Slow Carb Bagel Recipe
2013-09-08 09:23:54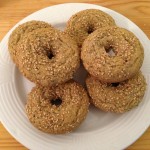 Serves 6
Ingredients
1 1/2 cups almond flour, blanched
1/4 cup flaxseed meal
2 tablespoons garbanzo been flour
1 teaspoon stevia (optional)
1 teaspoon baking soda
1/4 teaspoon salt
5 eggs
2 tablespoons apple cider vinegar
1 tablespoon chia or sesame seeds (optional)
1 tablespoon garlic powder (optional)
Instructions
Preheat the oven to 350F and spray a donut pan with non-stick cooking spray.
Pulse together all of the dry ingredients in a food processor until thoroughly mixed. Next, add in the eggs and vinegar and continue to mix together until the mixture is evenly combined.
Place the batter in a zip lock plastic bag, snip off one corner, and pipe the batter into the greased donut pan. Sprinkle the bagels with chia/sesame seeds and garlic powder if desired.
Bake for 20-25 minutes, until a toothpick or knife inserted into the center of a bagel comes out clean. Let bagels cool, and then serve.
Leave at room temperature for a few hours and then refrigerate in an airtight container.
Adapted from Paleo Cooking from Elana's Pantry
Adapted from Paleo Cooking from Elana's Pantry
Eat Teach Laugh Craft https://eatteachlaughcraft.com/