This past January, I fully started to embrace the Slow Carb Diet and lifestyle. For those of you who are not familiar, check out Tim Ferriss's book, The 4-Hour Body. I highly recommend the read, even if you don't choose to follow this particular diet.
One of the major lifestyle changes I had to make in order to fully commit to this new diet was the fact that I now had to eat a breakfast full of protein…EVERYDAY, not just on the weekends, within the first 30 minutes of waking up. For those of you who know me, you know that I am NOT a morning person.. like at all. Especially during the week when I'm struggling just to get out the door in order to make it to work on time.
For the first few weeks, months even, I was able to motivate myself to get up that extra 30 minutes just to make myself a nice balanced protein rich meal. However, although that motivation is still there, I've been looking for shortcut ways to make breakfast quicker so I can grab a few more precious minutes of beauty sleep each morning. The Three Minute Omelette recipe has definitely helped me out on those mornings where I just can't seem to get it together and get my butt out of bed!
Ok, so this recipe is SO simple I almost feel silly posting it. However, I've gotten lots of feedback requesting it, so here goes..
The ingredients are simple! For the salsa, I make my own using a can of diced tomatoes (I personally prefer the Del Monte brand with zesty jalapenos) and this fabulous salsa mix called JD's Salsa that we bought randomly at a street fair one day. It's made from all natural spices and tastes delicious! I love making salsa this way because it's way healthier than your typical jar salsa, and SO much cheaper! One container cost us $20 and you can make roughly 25 batches of salsa from the container. If you're interested, check them out at www.ordersalsa.com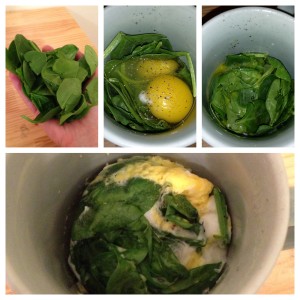 Before you grab your giant handful of spinach, make sure you coat your mug (yes, we are cooking eggs in a mug) with cooking spray or your favorite type of oil. Spinach shrinks up so much when you cook it, so make sure you grab a lot!
Dump the spinach in the cup and crack the eggs right on top. I love ground black pepper on my eggs, so this is the time I throw some of that on top.
Next, mix it all up so that the spinach is fully coated in egg. Place the mug in the microwave for about 2 minutes (cooking time may vary depending on your microwave).
It will probably make some popping noises. Once my egg omelette fully flipped over. It was bizzarre. But the final product still came out great! Just keep your eye on it to make sure it's not over cooking.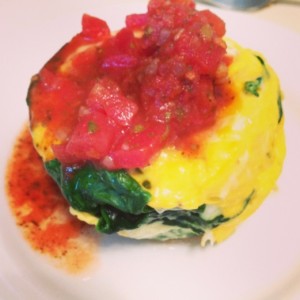 Once it's done, just flip the mug over and plop it on a plate. Add about 1-2 tablespoons of salsa on top and enjoy! If you make it, be sure to show your friends. They'll be shocked and eager to find out how you have so much time in the morning to make such a "gourmet" looking breakfast! :)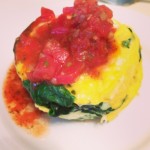 Three Minute Omelette
2013-04-29 20:39:52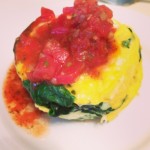 Serves 1
Quick and easy protein breakfast!
Ingredients
2 large eggs
1 giant handful of spinach
1-2 tablespoons of your favorite salsa
Instructions
1. Coat the inside of a mug with cooking spray or your favorite type of oil.
2. Drop a large handful of spinach in the mug.
3. Crack both eggs over the spinach.
4. Season your omelette. (I personally use ground black pepper)
5. Mix the ingredients together in the mug.
6. Microwave for about 2 minutes. (cooking time may vary)
7. Top with your favorite salsa.
8. Enjoy your delicious Three Minute Omelette!
Eat Teach Laugh Craft https://eatteachlaughcraft.com/