If you love chicken nuggets as much as I do, but are trying to lose weight and maintain a clean and healthy lifestyle like me, this is a must-try recipe!
I normally buy the thin sliced chicken breasts, but when I'm making nuggets I prefer to use the thicker full size chicken breast. For this recipe, I used two chicken breasts and chopped them up into bite size nugget pieces.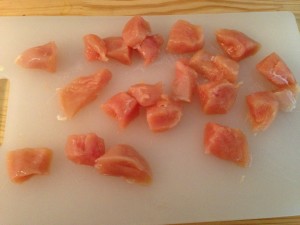 Next, I coated each piece in egg and rolled it around in a small bowl of pure almond flour. (I use the Trader Joe's brand because it's about half the price for the same amount of the Bob's Red Mill brand).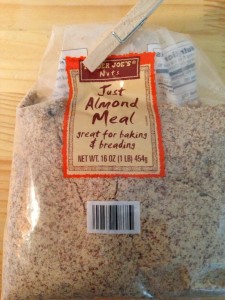 **HELPFUL TIP: Use a smaller size bowl when coating the chicken. The almond flour tends to clump up because of the egg which makes it more difficult to stick to the chicken. Using a small bowl allows you use almost all of the almond flour before it starts to clump, therefore you eliminate waste!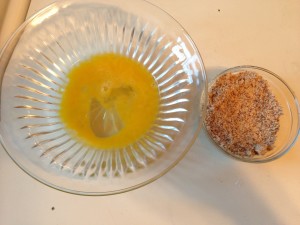 Next, I sprayed a baking sheet with cooking oil to prevent the nuggets from sticking to the pan. I personally love to add spices and herbs to most of my meals, so I sprinkled some salt, pepper, oregano, and red pepper flakes on top, to taste. Other options to try are garlic powder, parmesan cheese, rosemary, and any other interesting spice or herb you have in your pantry! Customize them to fit your personal cravings.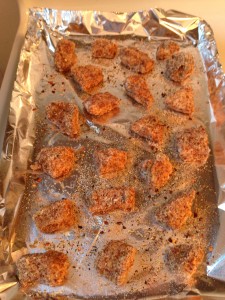 I baked them (350 F) for about 15 minutes. (Cook longer if using a larger quantity of meat.) Check the nuggets after 15 minutes to make sure they cooked all the way through. They should look white and juicy.
There are lots of varieties you can try out… and because of my affinity for this delicious food, I've tried out many. I personally like using the plain almond flour the best. To add more of a crunch, you can mix equal parts almond flour and flaxseed meal. I've also done just flaxseed meal, however I recommend mixing in the seasonings directly into the "breading" because the flaxseed meal tends to be more bland. Pan frying the nuggets in your favorite oil is also another variation to add more flavor.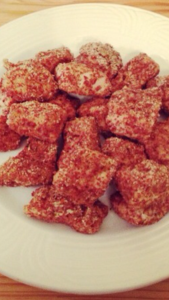 Serve these delicious morsels with your favorite chicken nugget condiments! To keep it slow carb, I dipped mine in hot sauce. Comment below to let me know how yours came out and what varieties you used. Can't wait to hear!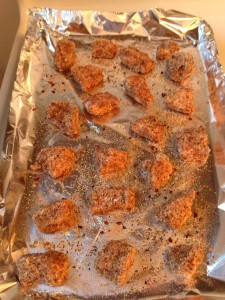 Clean and Healthy Chicken Nuggets
2013-05-11 08:39:16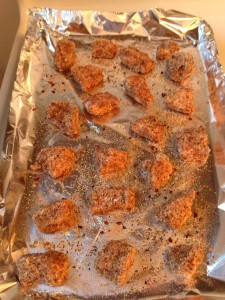 A healthier version of one of everyone's favorite foods, chicken nuggets!
Ingredients
2 skinless, boneless chicken breasts
1 cup almond flour
1 egg
1 teaspoon salt
1/2 teaspoon pepper
1 teaspoon oregano (optional)
1 teaspoon garlic powder (optional)
1/2 teaspoon red pepper flakes (optional)
Instructions
1. Pre-heat oven to 350 F.
2. Cut chicken into bite-size pieces (about 1 1/2 inches)
3. Crack egg into medium sized bowl.
4. Pour almond flour into small sized bowl.
5. Fully coat the chicken in egg, then coat in almond flour.
6. Place chicken nuggets on greased pan.
7. Season with salt, pepper, and other spices of choice.
8. Bake at 350 F for about 15 minutes.
9. Serve with your favorite condiment and enjoy!
Eat Teach Laugh Craft https://eatteachlaughcraft.com/